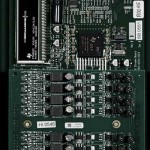 Not so long ago, Computer Networking and Telecom were very different things.  Today, the line is not just blurred, it is all but gone.  All the same, there are still conflicting considerations between streaming video and voice, and packet-switched data that has little in the way of QoS requirements.  It is critical that your design partner recognizes both the overlap and the differences for market acceptance.
Resonant Circuit Labs has designers that were involved in Gigabit Ethernet Switching before it was even ratified by the IEEE.  Whether your systems are implemented on Integrated Circuits, PCBs, or entirely in Application software, we can assemble the right team to implement your vision for tomorrow's networking applications.
Call today to see if together we will create the next generation of high-performance networking and telecom products.